BRIZZ is Brizzolari's ribbon with bi-adhesive on the back, designed to create new and imaginative gift packages that give you lots of opportunity to be creative.
As well as the simple adhesive ribbon, sold in 3-metre reels, the latest new product is BRIZZBOW, a bow available in two sizes with, on the back, a strip of Brizz tape in place of a simple piece of adhesive.
With Brizz and BrizzBow you can create packages that are truly outside the box: patchworks with small pieces of coloured ribbon, or original finishes for bags, jars and bottles, or whatever you want to create as a container for your gifts.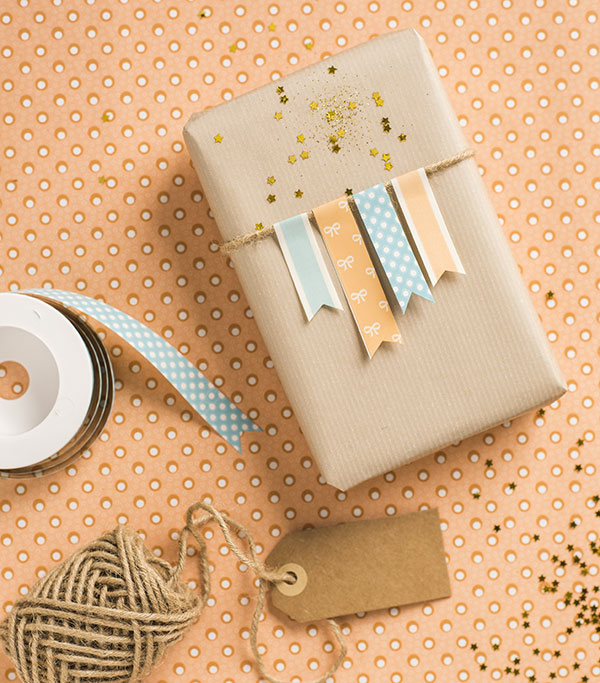 BUNTING
Use Brizz ribbon to create bunting: cut pieces of Brizz to the lengths you require and close them over a length of wire and cut the tips to points or zigzags.
BIRTHDAY PARTY
For a party: take three pieces of Brizz Bow in three different patterns, cut them to different and increasing sizes; place them on your gift to create a kind of pyramid, leaving space between each one. In the spaces, draw a birthday cake in layers with candles, trim and tray. Using matching BrizzBows you can close bags of sweets to add to the gift.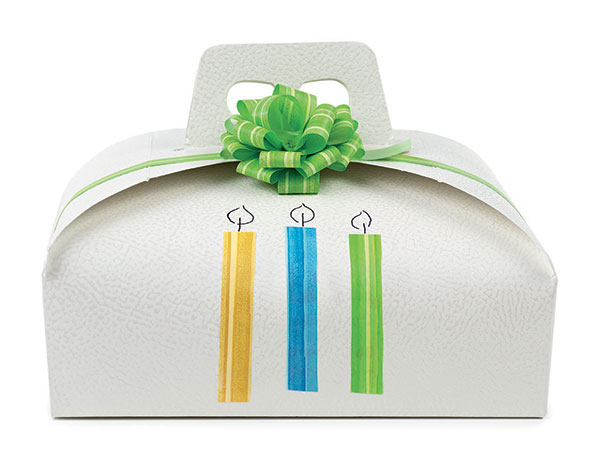 CAKE WRAPPING
If you have made or bought a cake to take to a party, decorate the box with a lovely BrizzBow, or cut some coloured pieces of Brizz and stick them to the box, finishing them with drawings of little flames and there you have it! Some cute candles!
PANETTONE AND BOTTLES
Look how easy it is to wrap a bottle of wine or spirits and a panettone cake for a party, turning them into a gift! The adhesive under the ribbon tails of BrizzBow mean it can easily be stuck to the neck of a bottle, a jar lid or the top of a wrapped panettone.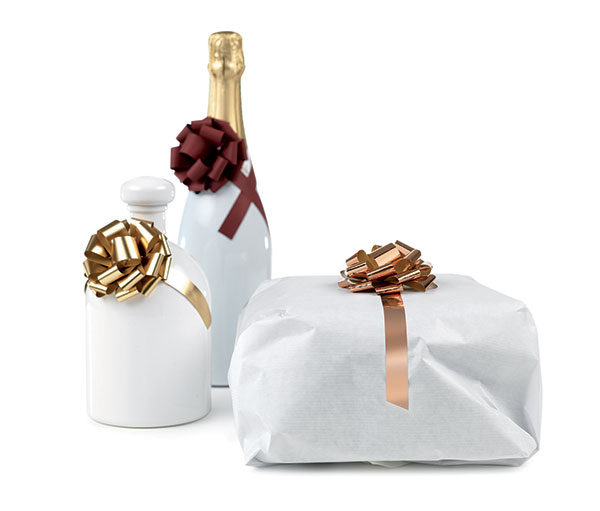 LETTERS AND DESIGNS
Have fun cutting Brizz in different patterns and glue them to form letters on packages wrapped in plain paper: MERRY XMAS, HAPPY BIRTHDAY, the name of the recipient… or create stylised designs such as snowflakes, hearts or Christmas trees. With Brizz you can give full rein to your imagination.